LAURICE PHOTO FLASHBACKS
DANCE DANCE DANCE INTERVIEW 1 INTERVIEW 2
LAURICE FACTOIDS LAURICE PHOTO FLASHBACKS
Take a trip with LAURICE through his musical past. Right from the start LAURICE was a gifted performer!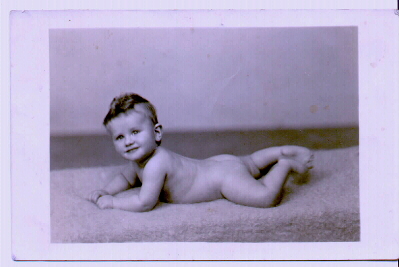 LAURICE was just a few months old when this picture was taken. A star entertainer, LAURICE bears all for the camera, while a proud mom and dad smile cheerfully behind the lens. Photographs like this were very common in British families after the second world war. LAURICE's family were no exception. Both sisters got the same celebrity treatment. Too cute for words! Don't you think LAURICE deserved Oceans of Love for such a star turn?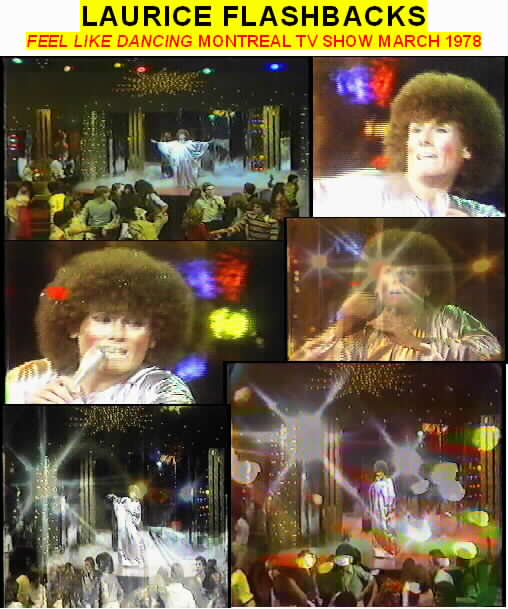 Laurice performs Disco Spaceship on the Montreal TV show Feel Like Dancing in March 1978. Needless to say, he was the hit of the show. LAURICE tells us that "Even though I wasn't the top-billed star at the beginning, after the end of the show, both the producer and director begged me to come back as soon as I had another single out. They told me that I was far and away the best act they had booked that particular week. It was such a blast for me, and catapulted a dance hit - Disco Spaceship - into a disco and pop radio hit for me. The power of that show was incredible at that time." One tidbit that LAURICE tells us that: "We shot the close-ups in the afternoon. I had decided I could move around the stage much more easily if I performed with bare feet. Big mistake. My foot caught on a nail, and I shot all my close-ups bleeding as I sashayed around the stage. The producer had asked me if I needed to break and I said 'no.' I was an advocate of that old adage 'The show must go on.' With not one but three cameras trained on me, I was in pain and felt very nervous. I never performed bare footed ever again."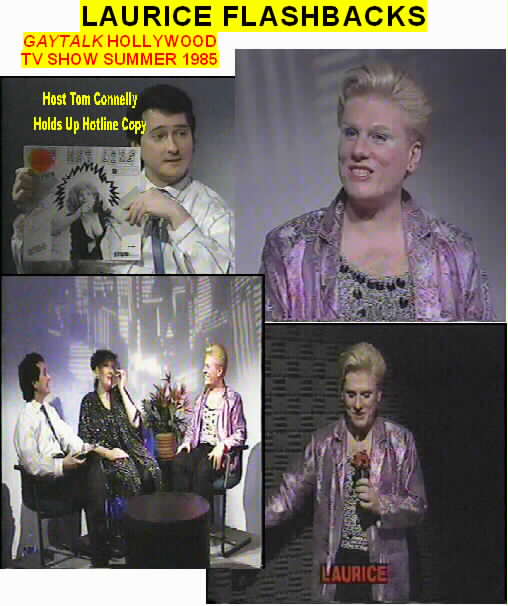 LAURICE was the guest on Gaytalk, a genuine local Hollywood TV show, where he was interviewed and performed his disco hit The Hotline to a most enthusiastic live and TV audience. Laurice tell us that: "Tom Connelly, the host of Gaytalk, was exceedingly generous in his programnme promotion and time spent on The Hotline. This was needed as Power 106, the premier dance radio station in Los Angeles at the time had banned playing The Hotline, because it was considered 'too black and too gay.' I had to face this fact continuously throughout my earlier career, although it was never openly admitted to by the radio DJs who met with my producers or myself." Despite these drawbacks, LAURICE had a Southern California turntable hit with The Hotline. And the outrageous cover has become a collector's item over the years.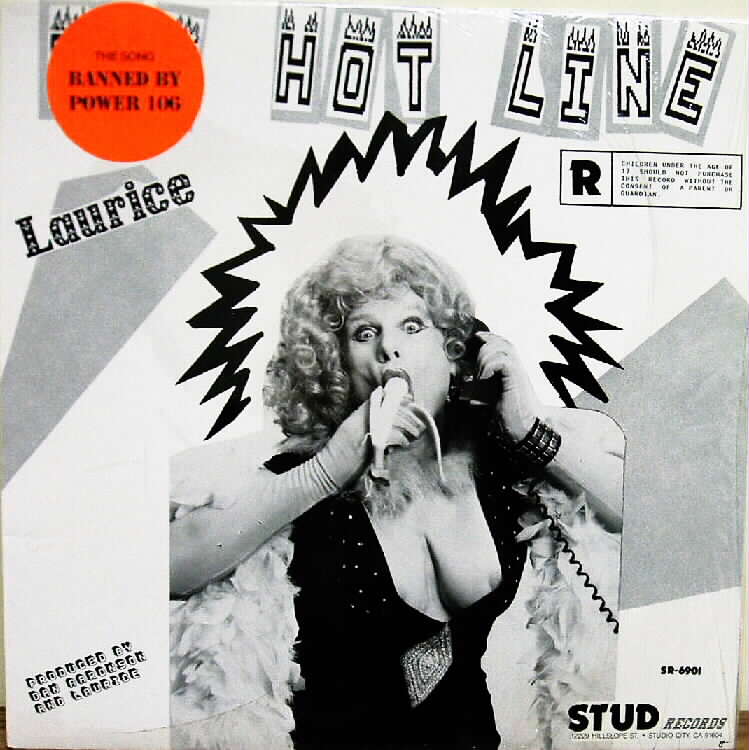 Laurice tells us: "We were taking the last shot on The Hotline album cover shoot and they asked me to do something really, really outrageous. As if my dressing up in drag wasn't outrageous enough. So I looked around, grabbed a banana and stuck it in my mouth. That was the money shot! J I was never a drag queen per se. The Hotline was all about the new telephone sex lines that were the rage in the mid and late eighties and early nineties. It was before the cell phone era. The idea was that what could consist of more safe sex than phone talk? It was like the ultimate safe sex solution at that time. You would have thought every radio station would buy into it. But apparently Queen Victoria still reigned supreme in some quarters." (Smile)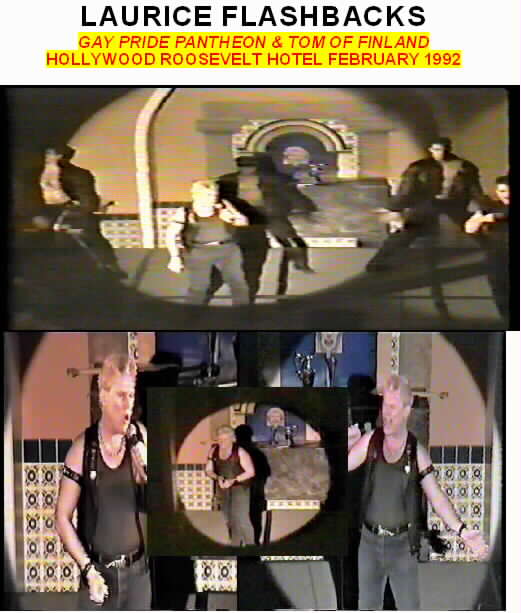 LAURICE butches it up for performances at the Hollywood Gay Pride Pantheon of Leather and Los Angeles Gay Pride events. LAURICE was very heavily involved in anti-AIDS and gay activism all through his musical career and has given generously of his time and energy in furthering the causes of those less fortunate than himself. Tracks performed include Price of Sin, Such a Man (Tribute to the Tom of Finland Foundation), Disco Spaceship, Echoes, Rock Me Thru The Night, etc. LAURICE worked part-time for the Tom of Finland Company and Tom of Finland Foundation. Tom of Finland was the world's foremost male nude artist who specialized in drawing male nudes in various homo-erotic poses. Tom was a hero in his native Finland, and LAURICE was fortunate enough to travel to Helsinki's renowned Kiasma Museum to see original samples of Tom of Finland's work in the museum archives.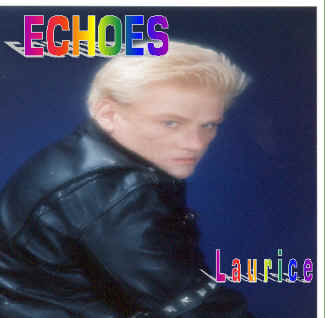 LAURICE is re-releasing his smooth jazz/adult contemporary, NAC radio format CD ECHOES. He tells us that: "I became very ill, and for part of my recovery I started putting down some instrumental tracks and composing again. A friend of mine advised me to be courageous and do a whole new album. I balked at first, but I decided to go ahead and do it. It was the best therapy I could have devised. I dedicated it to my partner of over fifteen years, Larry D. Norton, who is a flautist in his own right. He had a lot to do with my recovery. His love and support carried me through. I eventually released ECHOES, which really was a mixture of smooth jazz and adult contemporary vocals, and even some new age instrumentals too. It is planned as the first in a cycle of new CDs combining smooth jazz/adult contemporary vocals and new age instrumental compositions that stress versatility without compromising a love of rhythm oriented material. I really think I have succeeded in doing that." Radio stations around the world seems to agree, as many of the songs have become staples on radio stations throughout the world. Tracks such as Don�t Run From The Heartache, Fly Away, Heart Like Yours, I Really, Really Love You, Rage and Echoes, the title song, have already met with smooth jazz radio, NAC, adult contemporary radio and lounge music success in Europe, Russia and the Far East. Even some of the instrumental tracks, such as Moonlight Jade and Theme From The Haunted Rain Forest have become essentials at smooth jazz and adult album alternative contemporary music stations in those countries.
Check it out and see how ECHOES can irresistibly enhance an evening of romantic and sexual delight.
Listeners, you have been warned :)
Mighty Mouth Music Productions
307-1349 Bertram Street, Kelowna, BC V1Y 8N4
Email: mightymouthmusic@aol.com
Website: www.lauricenow.com