INTERVIEW PART 2
DANCE DANCE DANCE INTERVIEW 1 INTERVIEW 2
LAURICE FACTOIDS LAURICE PHOTO FLASHBACKS
DEAN N. FROM MIGHTY MOUTH MUSIC PRODUCTIONS INTERVIEWS DANCE AND SMOOTH JAZZ ARTIST LAURICE.
Please note: This interview is divided into two parts, Part One covering the disco-dance years and Part Two covering the smooth jazz and adult contemporary career of LAURICE
PART TWO
DEAN N.: So, Laurice, tell us what sparked your interest in smooth jazz.
LAURICE: Well, Dean, when I first got into jazz there was no smooth jazz, per se, when I was growing up. It was really an offshoot of the contemporary jazz scene. Believe it or not, I had very little interest in jazz when I first started out. It just evolved.
Perhaps you can guide us through the process.
I had always listened to Sarah Vaughan, but I was more interested in her pop hit records like Broken Hearted Melody and Misty. The same went for Billy Eckstine with I Apologize, and Peggy Lee with Fever, Mr. Wonderful and He's A Tramp. My original influences were pop. I had a love of popular music from my mother, Ruth Marshall, who was a professional singer with a terrific contralto voice. Her influences were like those of Ruth Etting, who Doris Day played in her 1955 movie Love Me Or Leave Me. My mother introduced me to the standard torch songs of the 1930's and I just built on it from there. When I was a boy, I had a collection of old 78 rpm World War Two songs featuring different big band singers, and singers. I loved Harry James and other bands of the late forties and early fifties as well. Consequently, I took all those vocal and instrumental influences into fashioning my own vocal style. I loved Vera Lynn, the British armed forces favourite, Dinah Shore, and I adored Doris Day. I seemed to have been drawn to female singers, but I loved The Inkspots, The Mills Brothers, Vic Damone, Al Martino and Elvis Presley. My first introduction to Tony Bennett was his swinging single version of the old standard Close Your Eyes, which I just loved. I grooved to swing stuff, Frank Sinatra, Dean Martin, Jon Hendricks, Mel Torme...
That's quite a lot of influences.
Oh, it didn't stop there. I imitated opera singers -the male ones :) and then all the sixties pop and soul singers. I adored Dusty Springfield, as I have already told you. It was Dusty, by the way, that almost single-handedly brought Motown to England via her BBC TV show. And Motown and all the soul singers. Particularly Wilson Picket and Aretha Franklin. I copied all of them, and when I was older, I put together a cabaret act imitating many of them.
Who did you do best?
Well, I was pretty good at all of the ones I did. But I loved doing Dusty, and not just Diana Ross but the whole Supremes. Elvis, of course, Louis Armstrong, Julie Andrews, Barbra Streisand -
Really? You did Barbra Streisand?
Oh yes, Dean. I would do Barbra singing The Way We Were. I had a big ballad voice, even though I didn't use it on record to any great extent. I had quite a range. I literally could sing anything. Billie Holliday, you name it. However, there was one artist I could imitate but just couldn't get into, even though I could imitate her extremely well.
And that was?
Ella Fitzgerald.
No kidding.
It's true. Now, I adore her, but it wasn't until I was well in my twenties that I began to really appreciate Ella's unique style. Even though I could do a killer Ella rendition of Every Time We Say Goodbye. I even did her at college to great effect.
Tell us how you got into jazz.
I was in a cover band when I was a struggling artist in London, and we had to be able to sing everything. Many requests were for popular songs of the day done by soul and even pop-jazz singers. To liven up a performance I found myself experimenting with swooping vocal glissandos and scat. a la Sarah Vaughan and Ella Fitzgerald. Apparently I did it very well. I found them astonishingly easy to do, probably because I had learned to do Aretha Franklin-like vocal twists and bends which forced my voice to become very flexible. Diana Ross was doing Lady Sings The Blues, and I watched both Peggy Lee and Diana when they came to perform at London's famous Albert Hall in London.
So you really worked hard at developing your vocal style.
Yes, but I have found an essential truth about singing. Most singers, contemporary and otherwise are lazy. They take the easy way out. The easy key, the easy end note, and they don't even attempt to reach. Compare that with the likes of Christine Aguilera and, Mariah Carey, for instance. Those women have incredible voices, and they are not afraid to use them.
But surely you didn't need to be a Christine Aguilera to do jazz? Michael Buble, Diana Krall and Harry Connick Jr. don't have to strain to succeed?
No, Dean, and those guys are great artists. The point I am trying to make is that most lesser singers don't even try very hard, and that is why they don't succeed. You have to stretch your voice in order to see what it can do. I wanted to do more, so I challenged myself. I did it with my session singing and then with my disco records. I did all the backing voices on the tracks.
So what made you decide to do smooth jazz?
Well, when new age music started to fade in the late eighties, the new smooth jazz formats started to appear, and I just loved it, both the instrumental and the vocal versions. It made me want to record some of it, but I wanted to put my own stamp on the genre.
And you did.
I became very ill, and for part of my recovery I started putting down some instrumental tracks and composing again. A friend of mine advised me to be courageous and do a whole new album. I balked at first, but I decided to go ahead and do it. It was the best therapy I could have devised. I dedicated it to my partner of over fifteen years, Larry D. Norton, who is a flautist in his own right. He had a lot to do with my recovery. His love and support carried me through.
That's wonderful, Laurice. He must have been quite an inspiration to you.
Yes, Dean. He was and still is. And he really likes a lot of my smooth jazz material.
And ECHOES?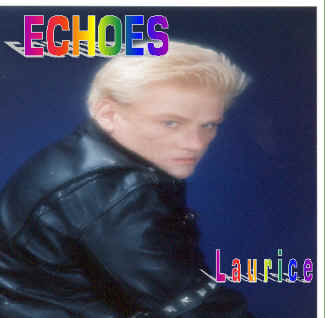 I eventually released ECHOES, which really was a mixture of smooth jazz and adult contemporary vocals, and even some new age instrumentals too. My feeling with including instrumentals on the album was that no artist can sustain a voice forever on an album. There has to be variety, and sometimes you need to give the audience a rest from your vocals. So I did.
And ECHOES did well?
Financially no. But I put a lot of effort into promoting it and ECHOES is planned as the first in a cycle of proposed new CDs, combining smooth jazz/adult contemporary vocals and new age instrumental compositions that stress my versatility without compromising a love of rhythm oriented material. That was and still is the plan. Tracks such as Don't Run From The Heartache, Fly Away, Heart Like Yours, I Really, Really Love You, Rage and Echoes, the title song, have already met with smooth jazz radio, NAC, adult contemporary radio and lounge music success in Europe, Russia and the Far East. Even some of the instrumental tracks, such as Moonlight Jade and Theme From The Haunted Rain Forest have become staples at smooth jazz and adult album alternative contemporary music stations in those countries.
And you are re-releasing ECHOES?
The plan now is to re-release ECHOES and follow it up with other, newer releases. But they will be slightly different from a lot of the smooth jazz out there now.
And why is that?
Because, if you listen to a lot of contemporary smooth jazz out there it has really been watered down. A lot of it sounds like it has been thorozined out. It is so light and bland that it can easily put you in a coma. That's why I like my smooth jazz to have a bit of bite in it. I don't want to put my audience to sleep.
What smooth jazz contemporary artists do you favour right now?
I love Sade. She is the greatest, as far as I am concerned. I like Keiko Matsui, Fattburger, urban smooth jazz artists like Dave Koz, Boney James, Joyce Cooling and- yes - one of the greatest of them all, Kenny G.
Kenny G?
Yes, he is a fantastic artist. Smooth jazz snobs look down on him, but that man has achieved superstardom status. He is the biggest instrumental selling artist of all time.
Anybody else?
Yes. There's a fantastic singer who is really underrated right now. Her name is Janita. She is a Finnish singer, an absolutely beautiful woman and brilliant artist, who is living in New York at present. Check out her 2006 album Seasons Of Life is really terrific. I first heard it on www.smoothjazz.com.
So what's next for smooth jazz Laurice?
I am already working on plans for a new smooth jazz album. I am really excited about it. Its going to be a cross between the best of the seventies and eighties musical influences and, hopefully, what's happening now.
But this is quite a contrast to your dance material, isn't it?
Yes, and it's an enjoyable contrast, Dean. I don't see why I shouldn't do both. I love both genres equally, you know.
Well, Laurice, I want to wish you the best of luck with both your retro-disco album DANCE DANCE DANCE and your smooth jazz album ECHOES.
Thank you so much, Dean. It's been a real pleasure. Speak to you again when the new album comes out.
Mighty Mouth Music Productions
307-1349 Bertram Street, Kelowna, BC V1Y 8N4
Email: mightymouthmusic@aol.com
Website: www.lauricenow.com