DANCE DANCE DANCE INTERVIEW 1 INTERVIEW 2
LAURICE FACTOIDS LAURICE PHOTO FLASHBACKS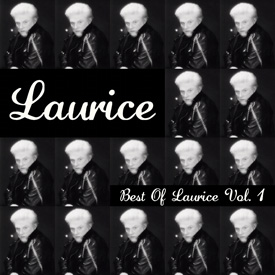 Hi There and Welcome!
Enter the amazing world of LAURICE, known primarily in North America for his dance and smooth jazz hits. Formerly Canada's Number One male dance vocalist for two years running, what is not generally known is that before he left the UK for greener pastures in North America in the mid-70's, LAURICE recorded a lot of incredible rock material that he wrote for various record companies as a session singer, songwriter and producer in London.
His most notable success, of course, was the underground 1973 pre-punk hit When Christine Comes Around/I'm Gonna Smash Your Face In that he recorded under the band name Grudge for the Black label, and has become an underground punk rock classic to this day. LAURICE has always said that he was doing punk before punk was really thought of, and current record sales of this classic bear this out.ventured into rock/blues territory with That's Nice, scream rock with Ain't Got Enough To Give and romantic rock with Shy Baby, all having a heavy updated retro 60's rock sound that only enhanced their popularity. You can hear the sheer force and vitality of these 70's classics on this album.
LAURICE was influenced by the works of rock leather icon Lou Reed with his Walk On The Wild Side and Vicious hits. So a move to Toronto, New York and Los Angeles in the mid 70's had this versatile artist challenging himself further with macho rock gems such as Rock Hard, highlighting very controversial material for the time in the form of He's My Guy, Born to Serve (S&M) and Wild Sugar, with highly sexualized lyrics and singing style. Much of this material was aimed at the leather subculture and is included on this album. Lou Reed would have been proud.
LAURICE went on to conquer the dance and smooth jazz worlds of the 70's, 60's and 90's, but his treasure trove of early to mid 70's rock standouts can't all be fitted onto this one album by any means, so look out for further LAURICE releases from MIGHTY MOUTH RECORDS in the near future.
LISTEN TO THESE HIT TRACKS:
and enter the varied and stimulating world of
LAURICE
TO ORDER
THE BEST OF LAURICE VOL. 1
DO IT BY PAYPAL OR DIGITAL DOWNLOAD FROM AMAZON, ITUNES, ETC.,
OR FROM MIGHTY MOUTH RECORDS
CONTACT: Mighty Mouth Records, Brooklyn, New York
Email: almostreadyrecords@live.com
ENJOY!
FOR MORE INFORMATION ABOUT LAURICE AND HIS DISCO AND SMOOTH JAZZ PERIODS
CLICK THE LINKS AT THE TOP OF THIS PAGE
Curious to learn more about that magical period of glamour and outrageousness, when sex, drugs and disco music were at their exhilarating height?
LET LAURICE, CANADA'S PRIOR REIGNING #1 DANCE VOCALIST, SHOW YOU
International singing star LAURICE embodies the heart and soul of 1970's and 1980's disco and dance. LAURICE was right there at the inception of the disco era. His worldwide hit songs were the toast of the town from Montreal and New York to Bangkok and Rio de Janeiro. His songs were a feature from New York's infamous Studio 54 discotheque to Berlin's most notorious beer taverns.

LAURICE can tell you in his own words what the scene was really like in London, Toronto and New York because he lived it. His retro dance/disco and smooth jazz songs have captured the romantic imagination of people all over the globe. LAURICE'S musical history encompasses many radio formats, including Rhythmic Adult Contemporary (AC), CHR-Rhythmic, Lite AC, Hot AC, Electronic, Retro-Disco, Disco House, House Disco, NAC, Classic Disco, Dance, Smooth Jazz and Adult Album Alternative. Find out what it was like to live through the most exciting dance and smooth jazz eras the world has ever seen.

Let LAURICE tell you in his own words through interviews, photos, his own biography and his fascinating musical history what it was really like. Welsh born gay recording artist, composer, writer and singer LAURICE worked in London, UK, as a singer, songwriter and talent scout. He was also an occasional session singer at the famous Abbey Road Studios, the home of the world famous Beatles, Pink Floyd and the Hollies, many of whom he met. He also recorded at London's famous Lansdowne studios, and recorded with fellow session singer and former singing star Kiki Dee (Don't Go Breaking My Heart/I've Got The Music In Me). His singing influences are many and varied, from his dance days of Stevie Wonder hits like Signed, Sealed, Delivered to KC and the Sunshine Band. But none can take the place of his idol, the uniquely talented and tortured superstar Dusty Springfield, who LAURICE had the good fortune to meet twice. LAURICE can tell you about his tragic meeting with the superbly talented Sarah Vaughan, another incredible talent who shaped his smooth jazz singing style, when he was working with a London record company.

LAURICE achieved some minor hits in England, Europe and the Far East, including Japan. His story then moved to Toronto, Canada, where he crashed onto the international chart scene in the 1970's and 1980's, starting with the disco dance hit We Will Make Love, a genuine Tom Moulton mix! Moulton was the inventor of the 12" disco mix. Many discotheque club nights were happily spent dancing the night away as The Disco Spaceship and The Hotline proceeded to zip their way up the disco charts. LAURICE can tell you what it was like to share the dance floor with other aspiring artists and disco aficionados alike, grooving to the music that heralded the dawn of the dance industry, championed by Donna Summer, KC and the Sunshine Band, The Bee Gees and LAURICE himself.

LAURICE went on to be recognized as the #1 male Dance/Disco Music Artist of the year for two consecutive years in Canada in 1977 and 1978, charted NO 1 and Top Five in many Latin American, Far East and Benelux countries. This in addition to the artist's many gay activist involvements in Europe, Canada and the USA. Let LAURICE tell you about some of disco's most exciting and successful artists that me met along the way, including the fabulous Gloria Gaynor of I Will Survive fame.

For an album that concentrates the essence of romance, music and candlelit evenings, listen to ECHOES, an album he is re-releasing, which he wrote, produced and arranged. This smooth jazz/adult contemporary and new age release is the first in a cycle of proposed new CDs, combining smooth jazz/adult contemporary vocals and new age instrumental compositions that stress versatility without compromising a love of rhythm oriented material. Tracks such as Don't Run From The Heartache, Fly Away, Heart Like Yours, I Really, Really Love You, Rage and Echoes, the title song, have already met with smooth jazz radio, NAC, adult contemporary radio and lounge music success in Europe, Russia and the Far East. Even some of the instrumental tracks, such as Moonlight Jade and Theme From The Haunted Rain Forest have become staples at smooth jazz and adult album alternative contemporary music stations in those countries.

ECHOES really is the essence of beautiful music. Check it out.

LAURICE became a producer, writer and manager for himself and other aspiring artists in Hollywood, California. He currently lives in Canada, and at MIGHTY MOUTH we are so excited! LAURICE is back - and all his dance hits are HERE in DANCE DANCE DANCE,his new retrospective retro-disco album of all his disco hits – yes, the actual ORIGINALS! Dean N. of Mighty Mouth Music has just interviewed LAURICE about his life through the 70's. 80's and 90's, and it makes spellbinding reading for all you music fans out there. LAURICE has managed to unearth some rare stills from some of his TV appearances throughout the years and it makes for some fascinating viewing. He has also included some unreleased smash material made in the 1970's that never saw the light of day, such as Rock Me Thru The Night, Love's Sweet Symphony and Oceans of Love – a truly golden treasure trove of fabulous retro-disco dance material, of which he is supremely proud. With this album and the wonderful smooth jazz album ECHOES, LAURICE wants to say a special "thank you" to all his fans around the world. He is also planning some very entertaining projects for the future. If you want a fun, up-tempo LAURICE CD that will keep you partying all night, we are sure that DANCE DANCE DANCE will disco disco disco your expectations - and much, much more! If you want to spend a romantic, candlelit evening with a willing partner and fine wine by a warm fire, you could not do better than to put ECHOES on your CD player or ipod to enhance the mood. Click on the hyperlinks to discover the fun fun fun world of smooth jazz and disco the LAURICE way. Enjoy!

Mighty Mouth Music Productions

307-1349 Bertram Street, Kelowna, BC V1Y 8N4
Email: mightymouthmusic@aol.com

Website: www.lauricenow.com